domingo, 20 de noviembre de 2016
DRAWING PROGRESSION (FROM AGE

12

TO

18

)
Sometimes when we see amazing art it's easy to just think "oh that person must be really gifted" but this progression gives hope that maybe anybody can create beautiful art if they are willing to put in the effort.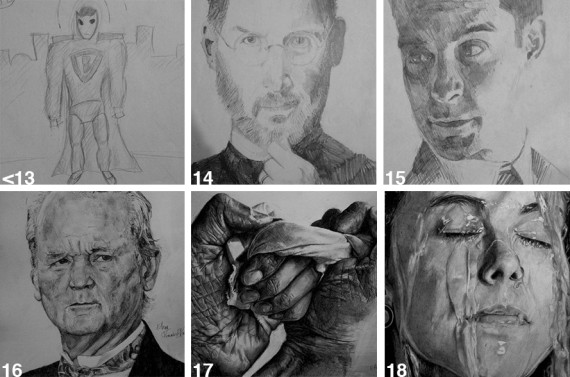 sábado, 19 de noviembre de 2016
NEXT CHALLANCE: RADIAL DESIGN MANDALA
Lets pratice the Geometrical Constructions we have learnt by designing our own MANDALA. Although the presentation indicates you should draw a 12 section radial mandala, 6, 8 or 16 sections mandalas are also allowed. The most important THE GEOMETRY. You will divide the circumference in equal parts in order to create your mandala as the examples on these videos and presentation.
lunes, 7 de noviembre de 2016
TYPOGRAPHY
is what language looks like.
It is the art and technics of

type design

.
Type the sky is an original project by Lisa Rienermann, a student of Duisburg-Essen University. Each letter is an empty space in the sky of Barcelona surrounded by buildings. She says: "Todo comenzó por la Q. Estaba en una pequeña calle de Barcelona y al mirar hacia arriba vi las casas, el cielo y las nubes. El área oscurecida por las casas dejaba entrever una forma en el cielo que parecía una Q. Esa fue la idea de la técnica. Pensé que si una Q me había encontrado a mi, no sería difícil que yo encontrara al resto del alfabeto. De modo que pasé semanas mirando al cielo, buscando el resto de las letras entre las casas."

Eating from A to Z! By Luiza P. (Flicker user). She says: "This project was conceived as a way to document my eating habits and routine, through the creation of an alphabet."
More examples:
Draw me a song:

take a look to these wonderful typography examples.

Posters

.

Modular typography:

Made typography using half moon shape as the negative space between box shapes. Then translated into cardboard sculptures mimicking the same design elements.

Sculptures.
Fillingraphy on typography

.

Cakes!